Moscow offers condolences and aid to quake-stricken nations
President Putin has pledged assistance to the governments of Türkiye and Syria after a deadly earthquake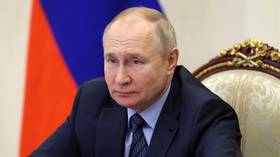 Russian President Vladimir Putin has expressed condolences and offered support to his Turkish and Syrian counterparts, after a powerful earthquake caused devastation in both nations on Monday morning.
In a cable to Turkish President Recep Tayyip Erdogan, Putin asked to relay "words of earnest sympathy" to the families of people killed in the disaster and wishes for a swift recovery to the survivors.
Turkish Vice President Fuat Oktay reported that the quake killed at least 284 people in his country and injured at least 2,324 others.
A separate message from Putin to Syrian President Bashar Assad said Russia "shared the grief and pain" of Syrians affected by the quake and is ready to help in responding to it.
The Syrian Health Ministry reported a death toll of at least 237, with at least 648 other people injured by the disaster.
The Russian Emergencies Ministry said it has placed on alert around 100 airmobile rescuers and two Il-76 transport planes which can transport them and their gear to Türkiye on short notice. The ministry said it is "always prepared to come to the aid of a friendly nation" in peril.
The epicenter of the 7.4-magnitude quake was located in the Kahramanmaras Province of Türkiye, where it also affected the provinces of Gaziantep, Sanliurfa, Diyarbakir, Adana, Adiyaman, Malatya, Osmaniye, Hatay, and Kilis. In neighboring Syria, Northern Aleppo, Hama, Latakia, and Tartus were hit worst.
You can share this story on social media: