Germany met with 'silence' over tanks for Ukraine – politician
The Bundeswehr's weapon supplies are scarce, the Social Democratic Party leader has said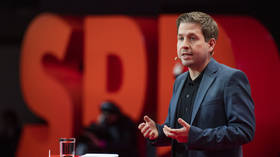 Germany's European allies have been suspiciously "quiet" after it promised to send Western-made tanks to Ukraine, the leader of the Social Democratic Party of Germany (SPD), Kevin Kühnert, said on Sunday. Berlin is struggling to find Leopard 2s for Kiev to use in the conflict with Russia, according to the politician.
"Over the last couple of weeks, there has been an impression that everyone wants to supply [Western-made tanks to Ukraine] and that Germany was the only one not doing so," Kühnert said in a ZDF interview. "Now we see that Germany made specific obligations to deliver a tank company. And suddenly it got very silent around us."
The SPD leader also noted Berlin's low supplies of the Leopards and ammunition for them, explaining that there is not a "big warehouse" where all the tanks are ready and waiting to be ordered. "The supplies are scarce," Kühnert told ZDF.
Chancellor Olaf Scholz confirmed the shipment of 14 Leopard 2 tanks to Kiev in late January. In addition to this, the government gave permission for other operators of the German-made tank to transfer their stocks.
US President Joe Biden confirmed on the same day that America would send 31 of its M1 Abrams tanks. However, as was the case with Germany, no timeline was provided for the shipments. Pentagon spokeswoman Sabrina Singh said last week that Washington simply "doesn't have these tanks available in excess" in their stocks.
Greek Prime Minister Kyriakos Mitsotakis told Nikkei Asia last week that Athens cannot spare their Leopard 2 tanks, as they are "absolutely necessary for our defense posture."
Kremlin spokesman Dmitry Peskov has commented on the Western tank shipments for Ukraine numerous times, saying in late January that they will "burn" like every other weapon in the conflict zone. Peskov said at a press briefing last week that the more weapons the West sends, the more Russia will utilize its military potential to counter them.
You can share this story on social media: