Swiss lawmakers oppose return of tanks to Germany
The armored vehicles are part of Switzerland's "strategic reserve," MPs have argued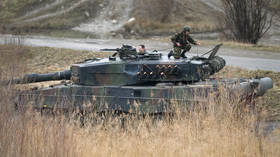 The Swiss parliament's Upper House Security Committee has said German-made Leopard tanks form an essential part of the nation's military reserves and should not be returned.
Switzerland uses Leopard 87 tanks, which are its own version of the German-made Leopard 2. Ninety-six of the heavy armor pieces have been retired and are currently stored at depots. Most of the tanks were produced in Switzerland under a German license, but the first batch of 35 was produced in Germany in 1987.
Some Swiss MPs had suggested handing 30 of the retired tanks back to Germany, just a week after Berlin announced its decision to send 14 Leopard 2 tanks from its own stocks to Kiev, to aid in the conflict against Russia.
On Friday, the majority of the Security Committee said that the country's decommissioned tanks "represent a strategic reserve and must be preserved," rather than sent back to their manufacturer. The tanks could still be used to fully equip Swiss battalions or as a source of spare parts for the current tank fleet, the committee said in a statement.
The group also rejected another parliamentary initiative calling for the Swiss Military Hardware Act to be amended to allow the re-export of Swiss arms to Ukraine. Currently, the law forbids other nations from re-exporting any Swiss military equipment or spare parts, unless they are built into other nations' military products or if their role in potential military equipment is "insignificant."
Making an exception for Ukraine would "violate the principle of equal treatment [of other nations] enshrined in the Neutrality Law," the committee argued.
At the same time, the committee supported the idea of relaxing re-export restrictions by limiting the time other nations could not send Swiss arms to third countries to five years. The waiver would only affect 25 Swiss partners, including Germany, Italy, France, Japan, and the US, the committee said.
These countries should still commit to not selling Swiss-made arms to nations "involved in internal or international armed conflicts, in which human rights are seriously violated or where there is a risk that the military equipment in question will be used against [the] civilian population," the committee's statement read.
Despite joining anti-Russian sanctions, Switzerland has maintained a neutral policy when it comes to arms supplies. Bern previously rejected Berlin's demands for ammunition for Kiev, and turned down a NATO request on treating wounded Ukrainians, arguing that civilians were indistinguishable from soldiers.
You can share this story on social media: