Swiss president weighs in on arms shipments to Kiev
The ban on re-exporting weapons should remain in place despite the Ukraine conflict, Alain Berset insists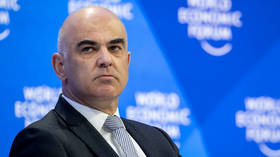 Switzerland should not allow other countries to re-export Swiss-made armaments to Ukraine, due to its long-standing neutrality policy, President Alain Berset said on Wednesday.
Earlier in the week, a Swiss parliamentary committee supported a motion to remove a legislative barrier to re-exporting weapons produced in the country to Kiev.
Speaking to the TV channel RTS, Berset, who holds the one-year rotating presidency of the Confederation, argued that "the question of neutrality is essential for our country". While noting that this principle "is absolutely compatible" with imposing sanctions on Russia, he urged caution when it comes to the export or re-export of weapons for use in the Ukraine conflict.
"This is not the time to change rules for weapons re-export," he said, adding that the same applies to changing the definition of neutrality.
"On the contrary, it's the time to recall our basic principles and find the right path for the country in this situation," he stated, referring to calls by several Western countries to approve the re-export of Swiss-made arms to Ukraine.
Switzerland has "a different role from other states," the president continued, claiming that the nation's credibility stems from it being the birthplace of the Geneva Conventions and a major proponent of humanitarian law. He insisted that diverging from this role for the sake of arms exports would not influence the situation on the ground in Ukraine, given that many weapons are already being sent there by other countries.
The principle of neutrality has been the cornerstone of Switzerland's foreign policy for several centuries, and means Bern cannot get involved in a foreign conflict or support any side militarily.
In recent months, the Alpine nation has rebuffed Germany, Denmark, and Spain's requests for the re-export of Swiss-made weaponry. However, it has joined EU sanctions against Russia. This has drawn the ire of Moscow, with Russia's Foreign Ministry claiming in summer that Switzerland "had lost its neutrality," making it unfit to act as a mediator representing Ukraine's diplomatic interests in Russia.
You can share this story on social media: