Italy revokes Tsunami warning
The alert was put out following a disastrous earthquake in Türkiye and Syria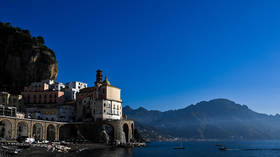 The Italian authorities have lifted a warning that the country's coast could face incoming tsunami waves triggered by a powerful earthquake, which has claimed hundreds of lives in Türkiye and neighboring Syria.
In a statement on Monday, Italy's Department of the Civil Protection had warned, "it is recommended to move away from the coastal areas, to reach the higher nearby area and to follow the indications of the local authorities."
It also stated that the alert "indicates the possibility of a real danger to people near the coast," especially in areas which are not very high or below sea level.
Hours later, however, the department retracted the alert, saying the removal "was ordered on the basis of data processed by the Tsunami Alert Center of the National Institute of Geophysics and Volcanology."
A series of earthquakes with a magnitude of 7.4 hit southern Türkiye shortly after 4am on Monday morning. According to Turkish President Recep Tayyip Erdogan, 912 people were killed and 5,385 injured.
In Syria, according to the country's Health Ministry, the earthquake killed at least 326 people, with 1,042 injured.
You can share this story on social media: