Death toll rises after disastrous quake in Türkiye
At least 284 people were killed, with more than 2,000 injured, according to local authorities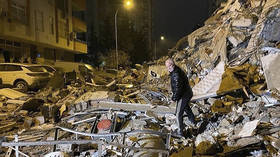 Hundreds of people have been killed and thousands injured after a series of powerful earthquakes struck southern Türkiye shortly after 4am on Monday morning.
According to Vice President Fuat Oktay, the disaster has claimed the lives of at least 284 people, wounding another 2,323. He also stated that the earthquake destroyed at least 1,710 buildings.
Casualties have been reported in numerous Turkish provinces, Oktay said. The province Antep tops the death toll lists with at least 80 dead and 581 destroyed buildings. The earthquake also killed 70 people in Kahramanmaras, 47 in Malatya, 14 in Diyarbakir, 10 in Adana, 8 in Kilis, and 4 in Hatay.
At least 34 buildings were destroyed and five people killed in the province of Osmaniye alone, according to the local governor, with more casualties expected as rescuers work to find survivors.
A considerable number of people remain missing in the immediate aftermath of the tremors.
Türkiye's authorities have dispatched 102 mobile base stations and 504 generators to the region. Schools in ten provinces have also been closed for one week.
The Turkish authorities have declared the highest level of emergency, with President Recep Tayyip Erdogan mobilizing all rescue services and first responders to aid the affected provinces, while other government institutions are coordinating response efforts.
You can share this story on social media: