British sailors hospitalized after water contaminated
The frigate HMS Portland had to return to its base after a crew member used the wrong chemicals on the water supply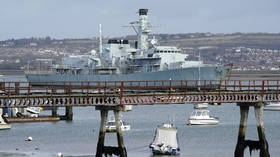 A "small number" of sailors have been hospitalized "as a precaution" after a crew member on board the HMS Portland added the wrong chemicals to the system meant to convert sea water into drinkable water, officials confirmed on Saturday.
The frigate returned to its base in Portsmouth on Friday after the sailor responsible for the mixup realized the mistake and notified superiors, the Daily Telegraph reported. A Navy source confirmed to the outlet the nature of the "poisoning" and commended the individual responsible for coming clean right away.
"We can confirm that HMS Portland has returned to HMNB Portsmouth as a precautionary measure, following an issue with one of the ship's fresh water systems," a Royal Navy spokesman told the Telegraph. "The health and safety of our personnel is of the utmost importance and we are taking a number of measures to safeguard the ship's company while the issue is investigated."
The Navy said "a small number of personnel were taken to hospital as a precaution."
The HMS Portland left port last month. It was monitoring the activities of a Russian frigate and tanker in international waters and tracking Russian submarines in the North Sea.
You can share this story on social media: