Netanyahu comments on possibility of Iron Dome shipments to Ukraine
Israel doesn't want "a military confrontation" with Russia, the prime minister has said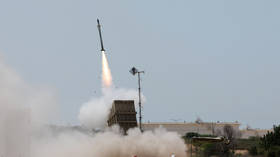 Israel will carefully study the possibility of supplying Ukraine with defensive weapons, including the Iron Dome air defense system, Prime Minister Benjamin Netanyahu has said. He added that his country does not want a confrontation with Russia in Syria.
"I'm going to look into it. But I'll judge it in the best way that [I] can," Netanyahu told the French news channel LCI on Saturday. He stated that Israel would examine the issue "in light of our national interest."
The PM explained that Israeli and Russian warplanes "fly within spitting distance over the skies of Syria."
We're not interested in having a military confrontation between Israel and Russia. I don't think that will serve anyone's purpose. So far, we've avoided it.
The Israeli Air Force uses Syrian airspace to "destroy Iran's military positions that are aimed against us," Netanyahu said. "So we have a consideration, perhaps, that other countries do not. But we support Ukraine in many other ways."
Unlike many Western countries, Israel has thus far not sent weapons to Ukraine and has only supplied Kiev with protective equipment, such as gas masks, flak jackets, and helmets. The country has also provided humanitarian aid, including armored ambulances. Israel also has not imposed sanctions on Russia.
Russian Foreign Ministry spokeswoman Maria Zakharova reiterated this week that the flow of foreign weapons would only escalate the conflict. "We will view these weapons as legitimate targets for the Russian Armed Forces," she said.
You can share this story on social media: