Israel rejects US request to provide missiles for Ukraine – Axios
An official informed Washington that its policy of not giving arms to Ukraine remains unchanged, sources told the outlet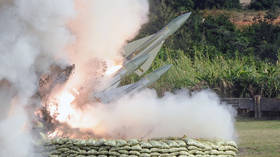 Israel has turned down a request by the Biden administration to supply its outdated Hawk batteries and surface-to-air missiles to Ukraine, sources have told the Axios website.
One American and three Israeli officials said Washington had contacted Israel on the issue two weeks ago, the US outlet reported on Wednesday.
The response was reportedly negative, with a senior official in the Israeli Defense Ministry telling the US that Israel's policy of not providing arms to Ukraine remained unchanged, and that the Hawk systems were "obsolete."
However, Israeli officials suggested to Axios that while the launchers were not functional, the interceptor missiles could have still been refurbished and put to use.
Israel has ten Hawk anti-aircraft batteries and hundreds of missiles in storage that it purchased from the US in the 1960s, when they were state-of-the-art technology, according to one of the sources.
The Hawk systems were put out of service a decade ago, being replaced by a US Patriot battery and locally-made Iron Dome and Arrow air defensive systems.
A US official told the outlet that similar requests were made to several other nations that possess Hawk systems, as Ukraine has been struggling to cope with massive Russian missile barrages targeting the country's military facilities and energy infrastructure in recent months.
US Secretary of Defense Lloyd Austin did mention the Hawk systems in his speech to the pro-Israel AIPAC lobby group earlier this month. He noted that the technology served Israel in the past and suggested it "can still help a besieged democracy defend itself," referring to Ukraine.
Israel has provided Ukraine with substantial humanitarian aid, but has remained reluctant to supply any weapons, despite pressure from Washington and Kiev. According to Axios, Israel maintains such a stance because "Russia holds enormous influence in Syria, but allows Israel to operate freely against Iranian activity there."
Eli Cohen, the foreign minister in Israel's new government led by Prime Minister Benjamin Netanyahu, said in early January that the country will be making fewer statements on the conflict in Ukraine from now on, but assured that humanitarian assistance to the Zelensky government will be maintained.
You can share this story on social media: