US officials pressing Africans over Wagner Group – media
The CIA and State Department have reportedly tried to pressure governments into kicking out the contractors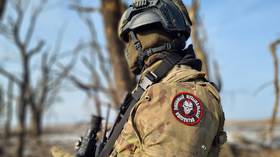 The Biden administration has attempted to pressure African nations into expelling the Wagner private military company, with the firm's presence in Sudan and Libya "at the top of every meeting" between American and Egyptian officials, the Associated Press reported.
CIA Director William Burns focused on the group during recent trips to Egypt and Libya, while Secretary of State Antony Blinken discussed Wagner with Egyptian President Abdel Fatah el-Sisi during a jaunt to Cairo last month, the news agency reported on Saturday.
"Wagner obsesses [the American officials]," said an Egyptian senior government official. "It is at the top of every meeting."
Egypt is a key conduit for American policy, with the Biden administration going as far as using Cairo to pass messages to Moscow, rather than communicating through direct channels. According to the report, the Egyptians reached out to their Sudanese and Libyan counterparts to relay Washington's displeasure with Wagner.
Abbas Kamel, the director of Egypt's Intelligence Directorate Agency, urged the head of Sudan's ruling sovereign council, General Abdel-Fattah Burhan to address Wagner's "use of Sudan as a base" for operations in Central Africa, a Sudanese official said. Burns himself visited Libya to speak to the country's competing governments, discussing Wagner with Libyan National Army (LNA) commander Khalifa Haftar, the report claimed.
Egypt reportedly asked that Haftar not station Wagner soldiers near its borders, while the US demanded that Wagner fighters be removed from their posts safeguarding Libyan oil facilities.
Founded in 2014, Wagner has mainly operated as a security contractor in Africa and the Middle East. The precise details of its deployments are not made public, although Wagner founder Yevgeny Prigozhin has confirmed that his forces fought in Libya. He denied involvement in Sudan when asked by American journalists last year, saying at the time that he was "not aware of any evidence that the Wagner Group exists," and that he had personally donated humanitarian aid to the conflict-stricken country.
"Who arranged wars and revolutions in Korea, Vietnam, Afghanistan, Libya, Syria, Mozambique, Central Africa, and so on?" he told RT last month. "Some of these countries later turned to the Wagner PMC, which put an end to these wars with an iron fist."
The US declared the Wagner Group a "transnational criminal organization" last month, after Wagner forces notched up a series of victories against the Ukrainian military in Donbass.
Despite Washington's apparent "obsession" with the group, "there is no evidence yet that the Biden administration's pressure has yielded results in either Sudan or Libya," the AP report noted.
You can share this story on social media: