Asian state blocks Wikipedia – media
The online encyclopedia had failed to delete "sacrilegious" content, Pakistan's regulator said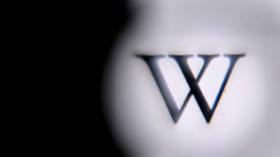 Access to Wikipedia has been blocked in Pakistan after the platform failed to remove content deemed offensive, several news organizations reported on Friday, citing the country's media regulator.
Malahat Obaid, spokesman for the Pakistan Telecommunication Authority (PTA), told Bloomberg that the agency was in contact with Wikipedia over the issue. Obaid was quoted as saying that access to the website would be restored if it complies with PTA's demands.
On Wednesday, the PTA said it had "degraded" Wikipedia's service in the country for 48 hours as a warning. According to the regulator, the website ignored a request to remove unspecified "sacrilegious contents."
"The platform neither complied by removing the blasphemous content nor appeared before the Authority," the PTA said in a statement on its website. The regulator added that its mission was to maintain "a safe online experience for all Pakistani citizens according to local laws."
Blasphemy is illegal in Pakistan, a Muslim-majority country of over 230 million, and can result in a death sentence. In 2020, the PTA sent notices to Wikipedia and Google, demanding the removal of offensive content. The regular said at the time that it had received complaints about Wikipedia displaying cartoons that mocked the Prophet Mohammed, among other things.
You can share this story on social media: