University up in arms over ChatGPT
A scandal has emerged after a diploma thesis was passed despite being written by the AI-powered chatbot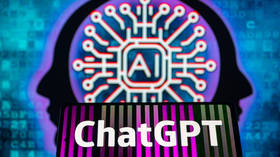 The Russian State University for the Humanities (RGGU) has called for restricted access to ChatGPT after a student successfully presented a diploma thesis written by the program. The AI-powered bot has garnered increasingly widespread attention for its text generation abilities.
The scandal unfolded after a graduate student with the university took to Twitter to share his experience of using ChatGPT to write his diploma thesis on management. In a lengthy thread, the student explained how he had circumvented text length restrictions, also sharing insights into how to use the program to get a coherent text.
The thesis was successfully presented at the university. The student admitted that he received only a minimal passing grade, blaming that result on other factors, namely laughing at the purportedly sloppy presentations by other graduates. All in all, it took the student around 23 hours to 'write' his thesis, compared to several weeks spent by his fellow students on their work, according to the thread.
The stunt has received a mixed reception from the Twitter crowd. Some have praised the student for his ingenuity, while others have accused him of cheating. Several users were so enraged by the trick that they wrote complaints to the RGGU and the Russian Education Ministry, calling on officials to investigate and annul the thesis altogether.
The university was quick to condemn the student, urging the authorities to restrict access to ChatGPT for educational facilities. It was not immediately clear how exactly the RGGU seeks to achieve that, given that ChatGPT's developers have already restricted access to the chat bot for Russian users.
"If decades ago the main problem for universities was plagiarism and unscrupulous borrowing, and this problem was successfully solved, now the educational community is facing a new challenge associated with the use of neural networks and artificial intelligence in scientific and educational activities. Russian and foreign experts have expressed concerns about this issue, and finding a worthy solution is a primary task for the scientific community," the university told Russian media in a statement.
In separate comments, the RGGU vowed to carry out additional "analysis" of the thesis, both internally and with the involvement of the scientific community. At the same time, the deputy head of the State Duma Committee on Science and Higher Education, Aleksandr Mazhuga, urged the university not to annul the thesis, arguing that it has already passed the presentation.
"My opinion is that the result cannot be annulled. But this is a very important signal for our educational community that we need to carefully participate in the process of writing our students' theses," Mazhuga told Gazeta.ru.
You can share this story on social media: