Gunman terrorizes Jewish Center
Surveillance footage captured the moment a "crazy" suspect fired at least six blank rounds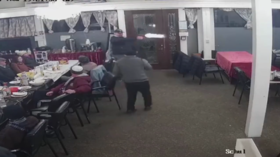 Police and the FBI have launched a criminal investigation after a man, who allegedly claimed to work for Mossad, the Israeli national intelligence agency, fired several blank rounds inside a community center serving mostly Russian-speaking Jews in San Francisco. Stunned members did not call the police until the following day, thinking it was just another "crazy" local resident.
The incident occurred on Wednesday evening when a man wearing a baseball cap entered the Schneerson Center during an adult study session. After speaking briefly to the group – and even being invited to the table – he suddenly pulled out a handgun.
Surveillance footage of the incident shows the suspect apparently struggling to cock the gun for a few seconds before firing at least six shots, which turned out to be blanks. The majority of the center members, most of whom were elderly, seemed to be in shock, which may explain why police were not immediately called to the scene.
"They were all stunned! Could you imagine, like you invite a friend, and he starts to shoot. You're stunned. Unprepared. Everybody was stunned!" Rabbi Bentzion Pil said in a video on YouTube, explaining that the man was speaking Russian, "looked Jewish" and not some kind of "terrorist" or "fascist." He added the members there that night deliberated the right course of action, and ultimately decided not to phone law enforcement, arguing that "unfortunately there are too many crazy people in San Francisco lately."
"I still believe it was just a crazy guy," Pil said, adding that the suspect claimed he was from the Israeli secret service Mossad. "He didn't scream any antisemitic words or expressions."
However, after other members of the center heard about what happened, police were notified on Thursday. Rabbi Alon Chanukov, who serves as Vice President of the synagogue, said he considers what the man did an act of "terrorism" even though the shots fired were blanks.
"Terrorism doesn't have to have killings. In my mind, what he did was he came and he did a terrorist attack. He came to terrorize people," Chanukov said.
You can share this story on social media: