Jerusalem struck by second shooting in 24 hours
Two people were seriously injured by gunfire, Israeli officials have said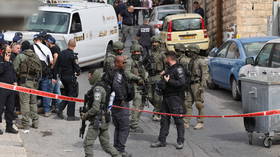 Two people were severely wounded and hospitalized after a gunman opened fire in Jerusalem on Saturday, Israeli police said. They stated that the suspect, who is just 13 years old, has been "neutralized."
The victims are a father and a son, aged 47 and 22 respectively, the Haaretz newspaper reported, citing the nation's rescue service.
According to police, the suspect was shot by two armed civilians who carried licensed guns.
"An identity check of the terrorist, who was wounded and overpowered, reveals him as a 13-year-old resident of East Jerusalem," they said on Twitter.
The incident took place in East Jerusalem's Silwan neighborhood hours after seven people were killed and three more injured outside one of the city's synagogues on Friday night. That assailant was a 21-year-old Palestinian from East Jerusalem. He was killed by officers.
According to the police, 42 people were arrested following Friday's attack, including "members of the terrorist's family." Security forces have been increased across Israel and the West Bank, with police placed on the "highest" alert level.
On Thursday, Israeli security forces raided the Jenin refugee camp in the northern part of the West Bank. Officials said the army intended to arrest three terrorism suspects, who opened fire and were killed. Local authorities reported that nine Palestinians died in the raid.
Several rockets were fired from Gaza into Israel on Friday morning. Israel responded by striking targets in Gaza, which officials said belonged to the Hamas militant group.
You can share this story on social media: