Elon Musk defeats investors in court
Tesla shareholders claimed they lost large sums of money due to market volatility caused by Musk's social media posts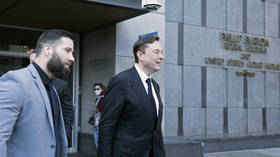 A California court has ruled that Elon Musk did not mislead investors with a 2018 tweet suggesting he might take Tesla private, finding he is not liable for financial losses suffered by shareholders in the wake of the post.
The three-week trial concluded on Friday, when jurors determined Musk could not be held liable for the shareholder losses and rejected billions of dollars in damages claimed by the plaintiffs.
"Thank goodness, the wisdom of the people has prevailed! I am deeply appreciative of the jury's unanimous finding," Musk said after the verdict was announced.
The case centered on an August 7, 2018 tweet in which Musk claimed he had secured funding to take his e-car company private at $420 a share. A group of investors accused the billionaire of misleading Tesla shareholders with the post, as well as a later tweet declaring that "investor support is confirmed," noting that Tesla's stock price fell sharply after it became apparent the deal would not take place.
During almost nine hours of testimony, however, Musk argued that he believed his claims about Tesla were true at the time, and that he had, in fact, arranged financing to take the company private. He said the plan fell through when a major investor pulled out, but insisted he did not intentionally mislead shareholders, also going on to question the "causal relationship" between his tweets and Tesla's stock price.
While the judge on the case, Edward Chen, previously ruled that the tweets in question were factually inaccurate and that Musk was reckless for posting them, jurors ultimately found Musk was not responsible for the shareholders' losses, turning down the plaintiffs' claims to damages.
In a separate suit over the same tweets filed by the Securities and Exchange Commission (SEC), Musk was accused of securities fraud and of "failing to have required disclosure controls" in place for his online activity. The case was settled in 2018, when Musk and Tesla were forced to cough up $20 million in fines each, and Musk agreed to resign as the company's chairman.
However, the billionaire is now working to rescind parts of the SEC agreement in a US appeals court, namely a provision requiring him to receive prior approval from Tesla before tweeting about the firm, calling the rule a "government-imposed muzzle."
You can share this story on social media: