Plan to send US contractors to Ukraine revealed – Politico
A private project is seeking to hire 100 to 200 professionals to help Ukrainians with repairs on the battlefield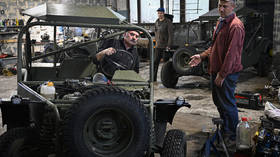 Former US military officers and private entities are raising money to send Western maintenance personnel close to the frontlines in Ukraine, Politico reported on Thursday.
According to the news website, the project, dubbed Trident Support and scheduled to launch in March, will involve the recruitment of 100 to 200 experienced contractors, who would be deployed on the ground in Ukraine.
They are then supposed to "embed themselves with small units near the front lines" and teach Ukrainian troops to repair their equipment without the need to send it out of the country, the report says, noting that all major maintenance of Western-supplied arms currently takes place in Poland and other NATO countries.
The group is headed by Alexander Vindman, a retired US Army Lieutenant Colonel who served on the US National Security Council under the Trump administration. Vindman found himself in the spotlight during Trump's first impeachment hearing, when he testified about the ex-president's 2019 call with Vladimir Zelensky, during which Trump allegedly tried to persuade his Ukrainian counterpart to dig up dirt on the Biden family.
Speaking to Politico, Vindman noted that "we've got all sorts of resources going into depots and advanced bases in Poland, mainly, and inside Ukraine basically they're on their own". He said he hoped that the situation could change if the project garners enough support.
"If you're doing this smartly, and you're distributing five or six facilities [in Ukraine], you could do this for about 150 to 200 mechanics," if they are dispersed over several locations in the country, the former army official added.
Moreover, Trident Support is said to be backed by at least one private company, which declined to be named, but acknowledged to Politico that it is interested in supplying Ukraine with spare parts for more rapid repairs.
However, Vindman admitted that the project could face huge challenges, stemming from Washington's reluctance to send defense contractors to Ukraine.
Moscow has repeatedly insisted that the West's arms shipments for Ukraine make it a direct participant in the conflict. In December, Russian Foreign Ministry spokeswoman Maria Zakharova warned that all the weapons the West provides to Ukraine, "as well as foreign military personnel operating them are legitimate targets for the Russian armed forces."
You can share this story on social media: