Pentagon assess Ukrainian chances of retaking Crimea – Politico
Defense Department officials reportedly believe that success cannot be guaranteed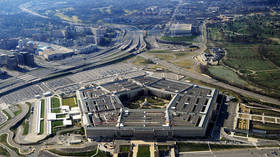 Ukraine's plans to seize Crimea from Russia are unlikely to succeed in the near future, lawmakers in the US House Armed Services Committee were told at a classified meeting with the Defense Department, according to Politico.
The outlet reports that it spoke to four people who disclosed details from the meeting but wished to remain anonymous. Although the sources did not explain what had led defense officials to their assessment, they stated that the main assertion was that Ukraine does not have the capability to drive Russian forces out of the peninsula. Nor do they expect that situation to change anytime soon. If Kiev attempts such an operation, its success cannot be guaranteed, one of the sources noted.
Pentagon spokesperson Sabrina Singh declined to comment on the classified briefing or discuss "hypotheticals or speculate on potential future operations." However, Singh claimed that Ukraine's "ability to fight and take back sovereign territory… speaks for itself."
The report from Politico comes several weeks after a similar assessment was voiced by the chair of the US Joint Chiefs of Staff, General Mark Milley. "I still maintain that for this year, it would be very, very difficult to militarily eject the Russian forces from every inch of Russian-occupied Ukraine," Milley said, referring to the four former Ukrainian regions that voted to join Russia last year, as well as Crimea, which rejoined Russia in 2014 following a referendum.
Milley noted, however, that he does not believe that the regions cannot ultimately be captured by Ukraine, but stressed that it would be "very, very difficult."
Ukrainian officials, including president Vladimir Zelensky, have repeatedly insisted that retaking all of Kiev's former territories was the government's top priority, with Crimea among them. They have argued that any negotiations with Moscow about ending hostilities would only take place after Russian troops have completely withdrawn from those lands.
To that end, Kiev has stepped up its demands for more advanced and long-range weaponry from the West. That includes rocket artillery and guided munitions fired by fighter planes and drones, in order to strike Russian targets far behind the front lines.
The Kremlin, meanwhile, has warned that any threats to Russian territories, including Crimea and the four newly incorporated regions, will result in the use of "more powerful weapons" by Russia's armed forces.
Russian State Duma chairman Vyacheslav Volodin has cautioned of a possible "global tragedy" if Western nations continue to provide weapons that Kiev could use to strike civilian targets and attempt to seize Russian territories.
You can share this story on social media: