John Bolton shares stance on talks with Russia in prank call
Any attempts by EU nations to negotiate with Moscow must be snuffed out, the Republican hawk and former US national security adviser believes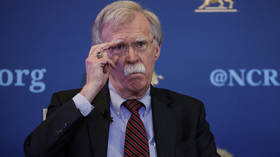 As long as the Ukraine conflict can still be won military, Russian President Vladimir Putin should not be allowed to achieve his goals through political means, former US national security adviser John Bolton has said.
He made the claim during a call with notorious Russian pranksters Vovan and Lexus, who tricked the hawkish Republican, an arch-critic of the Kremlin, into thinking he was talking to former Ukrainian President Pyotr Poroshenko.
"To me the important thing is to continue to push the Russians militarily – I think it's a winnable war – and to stop efforts by whether it's the French or the Germans or whoever it might be to try negotiating with the Russians," Bolton said in the recording of the conversation released by the pranksters on Thursday.
He noted that French leader Emmanuel Macron has spoken several times since the start of the conflict about the need to find a deal that would be "acceptable" to Russia.
Such statements allow Putin to suggest that "he can break Western resolve," asserted Bolton, who served as national security advisor under President Donald Trump and previously worked in different roles in the administrations of Ronald Reagan, George HW Bush and George W Bush.
"I think he [Putin] really hopes to win politically what he can't win militarily on the battlefield. That's where the real test is. And I think we are vulnerable," he warned.
The Republican hawk suggested the assistance that Kiev received from the West in the run-up to the conflict was "acceptable, but not great."
"The politicians in the West are taking more credit for NATO unity, frankly, than we deserve... Many NATO partners haven't participated fully… our performance on sanctions enforcement [on Russia] hasn't been what it should be," he concluded.
Bolton is the latest of many public figures to fall victim to Vovan and Lexus, who previously managed to prank Canadian Prime Minister Justin Trudeau, Turkish leader Recep Tayyip Erdogan, Polish President Andrzej Duda, the author of Harry Potter books J.K. Rowling, former US President George W. Bush and many other politicians and celebrities.
You can share this story on social media: