John Bolton berates NATO members
The former US national security advisor suggested expelling Türkiye from NATO unless it severs ties with Russia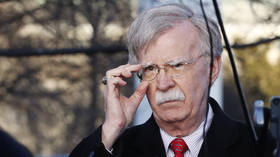 Former US National Security Advisor John Bolton has penned a scathing op-ed slamming several NATO members for their supposed reluctance to support Ukraine, singling out Germany, France and Türkiye while urging for "Western unity" against Russia.
Writing in the UK's Telegraph newspaper on Monday, Bolton warned that "weakness" within the NATO bloc could allow Russian forces to prevail in the conflict still raging in Ukraine, arguing 2023 would be a "decisive" year for the West to prove "the strength of its resolve."
"The real issue is Western unity and resolve. Neither is guaranteed," he continued, pointing to what he said are fractures within the NATO bloc, beginning with Türkiye.
Should Turkish President Recep Tayyip Erdogan be reelected later this year – which Bolton claimed would likely occur "through fraud" – the country's NATO membership should be "at issue," he said, lamenting the fact that "Russia's commercial and military partners have not yet deserted it in its hour of need, sadly including Turkey."
Since Russian troops were sent into Ukraine last February, Ankara has refused to go along with a retaliatory sanctions campaign led by the United States. Despite boasting the second largest NATO army, Türkiye has also somewhat limited its military aid to Kiev, compared to some $100 billion in Western arms shipments. Instead, Turkish officials have largely remained neutral and sought to mediate a diplomatic end to the conflict, having hosted a series of high-level negotiations last year.
Bolton also went on to criticize Germany, whose chancellor, Olaf Scholz, vowed a "sea change" in Berlin's foreign policy after taking office in 2022, including a boost to military spending to meet NATO requirements.
"However, little has actually happened, and the pledges are in doubt," Bolton said, noting that Germany's 2023 defense budget would fall below the previous year's.
While Berlin has said it would devote €100 billion to procure new weapons and replace its fleet of aging fighter jets with US-made F-35s, Bolton said none of that money had yet been contracted, and that the F-35 deal "appears stalled by bureaucratic infighting."
The former national security advisor praised Tokyo in comparison, hailing its recent decision to more than double military spending over the next five years, even suggesting the move could be an early step to "take NATO global," including nations like Japan, Australia, Singapore and Israel.
France, however, received no kind words from Bolton, who blasted President Emmanuel Macron for considering diplomatic steps to end the fighting in Ukraine. He accused the leader of echoing a "Kremlin talking point" by acknowledging Moscow's concerns over the eastward expansion of NATO, insisting the military bloc has always been a "defensive alliance" despite its bombing campaigns in the Balkans, Afghanistan and Libya.
Known for his hawkish foreign policy pronouncements – including calling for "regime change" in Russia and many other US "adversaries" – Bolton served as national security advisor under President Donald Trump between 2018 and 2019. Before that, he worked in a variety of different roles for Presidents Ronald Reagan, George HW Bush and George W Bush, including as US envoy to the United Nations and undersecretary of state for arms control affairs. More recently, he has hinted at a possible run for the White House in 2024, claiming he may be the only person capable of defeating Trump within the Republican party.
You can share this story on social media: