EU nation slams US ambassador over 'interference'
Nobody can tell Hungary's citizens how they should live, Foreign Minister Peter Szijjarto asserts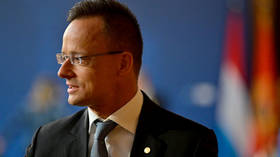 Hungarian Foreign Minister Peter Szijjarto issued a scathing rebuke of the US ambassador to Budapest on Thursday, asserting that he has no business meddling in the nation's internal affairs.
The minister's comments came after Ambassador David Pressman, who has represented Washington in Budapest since September 2022, told Politico earlier this week that Hungarian policymakers "continue to push policies endorsed by [Russian President Vladimir] Putin." He was referring to Budapest's opposition to anti-Russia sanctions and support of Moscow's proposals for a ceasefire.
When asked to respond to the statement at a press conference, Szijjarto said, "Nobody can tell us from the outside how to live, so it is of no interest what a citizen of another country – be it an ambassador – thinks about the domestic political processes in Hungary.
"We ask for more respect for the Hungarians, even from the ambassador," he added.
It is not Pressman's "job to interfere in the internal affairs of Hungary," the minister declared.
"If he wants to use his stay in Hungary to qualify the activities of the government elected by the Hungarian people with a fairly clear majority… then he will have a very difficult time," he added.
Szijjarto noted that when Hungary receives foreign ambassadors, it expects them to behave appropriately and work to improve bilateral relations. "We welcome non-governors and non-regents," he stated, emphasizing that the era of foreign envoys telling Hungarians how to live in their own country "is over."
Hungary, which is heavily dependent on Russian energy, has repeatedly voiced opposition to sanctions imposed on Moscow by the West in response to the ongoing Ukraine conflict. It has argued that the restrictions have wreaked havoc on the EU economy, but failed to meaningfully weaken Russia.
Last month, Hungarian Prime Minister Viktor Orban also slammed Germany's decision to support Ukraine by supplying 14 Leopard 2 tanks, noting that such steps make Western countries active participants in the conflict. According to Orban, instead of arming Kiev, the West should pursue "a ceasefire and peace talks" in Ukraine.
You can share this story on social media: