EU 'dress code' for Ukraine trip revealed – Politico
Officials were told to wear suits so President Zelensky's military look can take center stage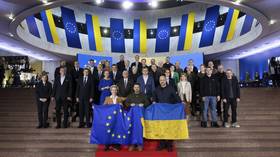 Preparations for the EU-Ukraine "summit" in Kiev that began on Thursday included an instruction to travelers from Brussels mandarins to avoid wearing anything that could distract from the green-and-camouflage ensemble favored by Ukrainian President Vladimir Zelensky.
Sent by the European Commission's Secretariat General last week, the note mandated "usual business attire" and said anything "green, khaki or too bright" should be avoided, according to Politico. The outlet described the instructions as an "apparent attempt to reserve the military look for the hosts," and Zelensky in particular.
There was no official explanation to that effect, but unnamed "EU diplomats" who spoke to Politico said it was "in line with expectations" to "stay consistent with the political message."
The note also mentioned that members of protocol will "intervene when necessary" during any photo ops, to make sure the pictures support the message the EU wishes to convey.
That message is that Brussels supports the government in Kiev – though not enough to grant it membership and any privileges that might confer.
Zelensky formally filed Kiev's EU candidacy application last February, just days after the conflict with Russia escalated. Brussels granted Ukraine candidate status in June, starting the clock on a process that usually takes years and even decades.
"I believe that Ukraine deserves to start negotiations on EU membership this year," Zelensky told EU Commission President Ursula von der Leyen on Thursday.
So far, the EU has agreed to fast-track the receipt of Ukraine's application. The bloc has also funded the Kiev government with billions of euros in grants and loans, and a program to train Ukrainian troops across several member states. However, Brussels has been unwilling to set aside its normal criteria for membership, which Kiev is currently unable to meet.
You can share this story on social media: