Declassified docs reveal why the US snubbed Russia
Unresolved issues prevented Washington from considering Moscow an 'ally', according to minutes from a meeting in 1992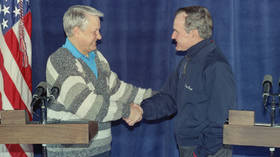 The US rejected Russian suggestions to describe the pair as "allies" during a meeting of the then-presidents of the two nations in 1992, newly declassified transcripts have revealed. George H.W. Bush explained to his counterpart Boris Yeltsin why he was reluctant to use the word, asserting that not all issues between the countries had been ironed out.
On Monday, the US National Security Archive published a trove of declassified minutes of several meetings between the two presidents just over three decades ago. Following the collapse of the Soviet Union in late December of 1991, there were high hopes among the new Russian leadership that the former arch rivals could become allies.
One such conversation took place on February 1, 1992, at the US presidential retreat at Camp David in Maryland, during Yeltsin's first state visit to the country.
Toward the end of the meeting, the Russian president asked Bush: "Are we still adversaries or not?"
"No, we are not," the US leader replied, adding that a statement had been prepared that moved "us away from the old era." He then suggested that the Russian head of state take a look at the message.
Upon doing so, Yeltsin remarked: "You have nothing here which says that we are no longer adversaries and are moving to be allies."
"It says friendship," Secretary of State James A. Baker interjected.
However, the Russian president insisted that the document should state that the US and Russia "are moving from a stage of adversaries to allies." Such wording, according to Yeltsin, would add a "new quality" to the message.
President Bush, in turn, clarified that his administration was "using this transitional language because we don't want to act like all our problems are solved."
In addition to the episode, Yeltsin told his American counterpart that while the Russian government was committed to democracy and market reform, the country was going through "hard times." He argued that Washington "must provide aid" to the former Soviet republics, including Russia, unless it wanted to see a return of "conservative forces [and] hawks" to power in Moscow. Yeltsin warned that would lead to Russia becoming a "police state," with "repression" and an "arms race" recommencing.
The Russian leader also made a number of bold nuclear arms reduction proposals which Bush did not accept, with the US president refusing to scrap submarine-launched ballistic missiles, which formed the core of America's strategic triad.
Yeltsin's idea of creating a joint global missile defense system was likewise not received enthusiastically by the Americans.
Despite the differences of opinion, both leaders described the meeting as extremely positive at the time.
You can share this story on social media: