Ukrainian official alleges Twitter conspiracy
An aide to President Vladimir Zelensky has claimed that Elon Musk is suppressing the Kiev government's accounts on the platform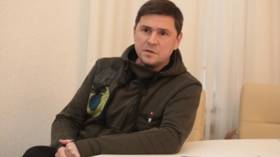 Ukrainian presidential adviser Mikhail Podoliak has blasted Twitter owner Elon Musk as a sympathizer for Russian propagandists, accusing the billionaire entrepreneur of "forcibly reducing" the reach of the Kiev government's accounts on the social media platform.
"Maybe you should stop pessimizing Ukrainian official accounts and forcibly reducing their reach," Podoliak told Musk on Wednesday in a Twitter post. "It's too obvious."
He went on to suggest that Musk has tried to help "talentless" purveyors of Russian propaganda. "It won't help them, and Twitter's reputation is dying," Podoliak claimed. "Maybe a regulator is needed to explain competition rules to the owner."
It's not clear which regulatory agency Podoliak wants to unleash on Musk or which antitrust law he has supposedly violated. Many Twitter users have complained in recent days of declining reach and engagement of their posts. The company's engineers are reportedly working to resolve a glitch that apparently arose when the platform tweaked some of its features last month.
.@elonmusk, maybe you should stop pessimizing 🇺🇦 official accounts & forcibly reducing their reach? It's too obvious. Don't help talentless ru-propaganda. It won't help them and @Twitter's reputation is dying. Maybe a regulator is needed to explain competition rules to the owner?

— Михайло Подоляк (@Podolyak_M) February 1, 2023
Musk provided Ukraine free use of his Starlink satellite communication service after Russia launched its military offensive against Kiev last year. Media outlets, including the Economist, have credited Musk's satellites with having "saved Ukraine and changed warfare." However, Zelensky's regime has clashed with the Tesla CEO, such as when Musk suggested last October that the conflict could be ended by offering such concessions as allowing UN-monitored secession elections in separatist regions.
"F**k off is my very diplomatic reply to you," Ukraine's then-ambassador to Germany, Andrey Melnik, told Musk in response. "The only outcome is that now no Ukrainian will ever buy your f**king Tesla crap."
Musk bought Twitter for $44 billion in October, vowing to make it a bastion for free speech. But he has also made enemies on the Russian side of the conflict. Vladimir Solovyov, a prominent Russian television host, recently denounced the Twitter owner as a "war criminal" for his support of Ukraine's military.
Podoliak has a history of making unsupported allegations, such as his claim last week that the International Olympic Committee (IOC) took bribes from Russia to "promote genocide." He made the accusation after the IOC floated the idea of allowing Russian athletes to return to competitions. In December, he accused Twitter of hiding trends related to the Ukraine crisis, apparently dismissing the possibility that public interest in the conflict had declined.
You can share this story on social media: