Double-amputee shot dead by US police
Officers in southern California have killed a stabbing suspect who was missing both legs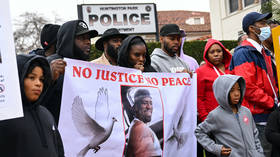 Law enforcement officers in a Los Angeles suburb have fatally shot a stabbing suspect who was trying to run away from them on what was left of his amputated legs. The incident stirred fresh outrage over police brutality just weeks after a Tennessee man was beaten to death during a traffic stop.
Police claim they encountered Anthony Lowe Jr. when they responded to a stabbing call last Thursday afternoon in Huntington Park, California, located south of Los Angeles. The 36-year-old black man was armed with a long butcher knife and had allegedly stabbed another person in an unprovoked attack, causing serious injury.
Lowe had jumped from his wheelchair by the time officers arrived. As they tried to detain him, twice using a Taser to little effect, he attempts to escape. Video footage posted on social media appears to show two officers walking toward Lowe as he hobbles away from them. At one point, he turns back toward the police while continuing to flee and appears to wave a knife at them.
Police fired at least eight shots at the suspect, citing fears that he would throw his knife at them. They then stood over Lowe with guns still drawn until one of the officers cuffed his hands behind his back.
Lowe's family decried the shooting at a press conference outside the Huntington Park Police Department on Monday. They claim he was distraught over the recent loss of his legs and could not have represented a serious threat. Both legs were amputated at the knees.
"My son was murdered," Dorothy Lowe said of the incident. Ellakenyada Gorum, a cousin of the deceased suspect, said, "You guys knew your lives wasn't in danger. He's running on his limbs. How cold-hearted could they be?"
The Los Angeles County Sheriff's Department is investigating the shooting. At least one of the three officers involved in the confrontation with Lowe appeared to be black.
The incident follows the beating death earlier this month of Tyre Nichols in Memphis. Five black police officers have been charged with murder in the death of Nichols, who also was black. That case has sparked protests against police brutality across the US.
You can share this story on social media: