Warsaw comments on F-16s for Ukraine  
Poland is not going to give Kiev the fighter jets, a deputy defense minister has said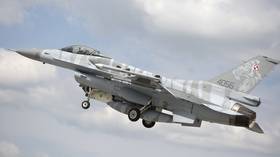 Poland is not planning to supply Ukraine with US-made F-16 fighter jets, Deputy Defense Minister Wojciech Skurkiewicz has said. His remarks came just a day after Prime Minister Mateusz Morawiecki said Warsaw could donate the aircraft provided that it is done as part of a concerted effort involving other NATO nations.
On Tuesday, Pawel Krutul, a Polish MP and the vice-chairman of the Parliamentary National Defense Committee, posted a tweet saying that "if the Ministry of National Defense hands over F-16 fighters to Ukraine instead of Russian MiG-29, it will mean that we are disarming."
Responding to that message, Skurkiewicz wrote: "There is no topic of handing over the Polish F-16s."
Meanwhile on Monday, Morawiecki clarified to journalists that "just as it happened a few months ago with MiG-29 aircraft, any other aircraft assistance will be coordinated, implemented and, possibly, transferred together with other NATO member states."
According to the Polish media, Warsaw has 48 F-16 warplanes.
While Ukraine has long been asking Western powers to provide it with fighter jets, talk of such transfers has intensified in recent days, after several countries agreed to supply tanks to Kiev – something they had until recently refused to do.
Taking to Telegram on Monday, Andrey Yermak, the chief of staff to Ukrainian President Vladimir Zelensky, noted that "work is underway to acquire F-16 fighters," adding that Kiev had received "positive signals from Poland."
On Saturday, Politico reported that several US military officials have been "quietly pushing" the Department of Defense to approve the delivery of F16s to Kiev. According to the article, citing anonymous Pentagon staffers, these efforts are now "gaining momentum" after Washington gave the green light to the shipment of Abrams tanks to Ukraine.
When asked by reporters on Monday whether the US has any such plans, President Joe Biden, however, replied in the negative.
Russia, meanwhile, has repeatedly warned the West against supplying Ukraine with weapons, claiming that this would only serve to prolong the conflict. Last week, Kremlin spokesman Dmitry Peskov argued that the continued arms deliveries are further proof that Western countries are directly involved in the hostilities between Moscow and Kiev.
You can share this story on social media: