China lashes out at NATO country's newly elected president
Beijing has accused Petr Pavel of meddling in its affairs after his phone call with Taiwan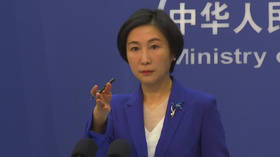 Beijing has slammed Czech President-elect and former NATO general Petr Pavel over a phone call with Taiwanese President Tsai Ing-wen. Chinese Foreign Ministry spokeswoman Mao Ning stated on Tuesday that the conversation was "a serious interference in China's internal affairs."
"This is a blatant violation of the Czech Republic's political commitment to the one-China principle and sends a wrong signal to the 'Taiwan independence' separatist forces," Mao said at a regular press briefing. She added that Prague held the call on Monday "despite China's repeated dissuasion."
"We urge the Czech Republic to take immediate and effective measures…to undo the negative impact of this incident and credibly abide by the one-China principle," the spokeswoman said.
Beijing views Taiwan, which has been ruled by a separate government since the late 1940s, as its territory, and strongly opposes any form of recognition of the Taipei authorities. The majority of countries, including the Czech Republic, do not maintain formal diplomatic relations with the island.
A retired army general, Pavel won the election on Saturday, defeating former Prime Minister Andrej Babis. From 2015 to 2018, Pavel served as chair of the NATO Military Committee, a body that participates in the US-led bloc's strategic planning.
Pavel wrote on Twitter on Monday that he and Tsai had "agreed on strengthening our partnership." He also said he hoped to meet the Taiwanese leader in person in the future.
Taiwanese Foreign Ministry spokesman Jeff Liu said in a statement that the island's government "will do its utmost" to deepen bilateral ties with Prague.
Last year, Beijing responded to a visit by former US House of Representatives Speaker Nancy Pelosi to the island with large-scale snap military drills around Taiwan. She was the highest-ranking US official to make such a trip since the 1990s.
The Pavel-Tsai call took place amid heightened tensions between China and NATO. The alliance has accused Beijing of coercing its neighbors in the region and "threatening" Taiwan. Beijing, meanwhile, has rejected the portrayal of China as a threat and urged the US to abandon its "Cold War mentality."
You can share this story on social media: