Ex-NATO commander wins Czech presidential election
Petr Pavel has beaten former PM Andrej Babis in a second-round runoff, according to preliminary results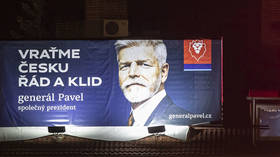 Former NATO commander Petr Pavel won a second-round runoff election to become president of the Czech Republic on Saturday, beating former Prime Minister Andrej Babis with 58% of the vote to the latter's 42%, according to the Czech Statistical Office. The ballots from 99% of nearly 15,000 polling stations have been already counted.
Representing the poll as a "clash of two worlds," Pavel's campaign declared he opposed "the one represented by Babis and [incumbent president Milos] Zeman," which he described as "a world of chaos, failure to solve problems, personal gain, and behind-the-scenes influences."
Pavel thanked voters for their support, declaring that "values such as truth, dignity, respect and humility have won in this election." He will take office in March.
Pavel, who chaired NATO's military committee from 2015 to 2018, touted those credentials and pledged to "restore integrity" to the role of president, accusing his predecessor Milos Zeman of "stretching the constitution" and "bringing us to the brink with pro-China and pro-Russia policies."
The former NATO bigwig and his opponent were both members of the Communist Party prior to the end of its rule over the former Czechoslovakia. However, Pavel's training to become a spy became a subject of controversy. He insisted he never got a chance to actually work in espionage.
Babis, a billionaire who was acquitted of fraud charges earlier this month, had campaigned with the support of Zeman. The outgoing president served for the legal maximum of two terms, defeating multiple impeachment attempts during his tenure. He has also urged caution regarding the conflict in Ukraine lest it expand into World War III.
While neither candidate secured a majority during the first round of voting, the other seven candidates rallied around Pavel after they were knocked out in the first round of voting. Voter turnout reached a higher than usual 70%. While Babis and his family reportedly received death threats, Pavel was himself declared dead in a last-minute hoax for which his opponent's campaign denied responsibility.
While the presidential role in the country is described as being largely ceremonial, the office is responsible for formally naming the government, picking the central bank governor and judges, and commanding the armed forces.
You can share this story on social media: