US nuclear sub docks shut down over 'seismic' concerns
Four drydocks in Washington state have been idled amid worries raised by an earthquake study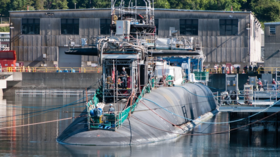 The US Navy has announced the shutdown of four drydocks in the Seattle area, citing safety concerns if a major earthquake strikes the region. The service is already struggling to keep up with the maintenance needs for its nuclear-powered attack submarines.
Three nuclear-certified drydocks at the Puget Sound Naval Shipyard in Bremerton, Washington and one slot at the Trident Refit Facility in nearby Bangor, have suspended submarine docking for further evaluation and upgrades, the Navy said in a statement.
Officials didn't specify what the recently completed seismic study showed; nor did they offer an estimate as to how long the affected drydocks will be out of commission.
The seismic assessment "identified potential issues associated with the remote possibility of a large-scale earthquake occurring simultaneously with a submarine maintenance availability," the Navy said. "With this new information, the Navy is taking additional measures to further ensure the safety of the shipyard workforce, sailors, the local public, the environment and the submarines."
The Pacific Northwest lies near the Cascadia subduction zone, a fault line that runs 700 miles along the coast, from Vancouver Island to northern California. Scientists have warned that the fault is capable of unleashing a "megathrust" earthquake registering a magnitude upward of 9.0 on the Richter scale, as it did in 1700, and that it has a 37% chance of causing a quake of at least 7.1 magnitude within the next 50 years.
The Navy knowingly built the Puget Sound shipyard in an active seismic zone, but some of its drydocks weren't adequately girded for a major earthquake. For instance, one of the slots included in the suspension order was reportedly built on "unconsolidated earth and fill," putting it at bigger risk of liquefaction during a big quake.
Although the Navy insisted that the drydock shutdowns won't affect the nation's "strategic deterrent capability," the move comes at a time when 36% of US attack submarines are either undergoing maintenance work or awaiting service. Even before the suspension, the Navy had only 18 drydocks to tend to all of its submarines and aircraft carriers. Over the past decade, only 20-30% of submarine maintenance projects were completed on time, the Navy said last year.
The Puget Sound shipyard is more than 130 years old, and upgrades to just one of the suspended drydocks will cost an estimated $667 million.
You can share this story on social media: