Government is Americans' top problem – poll
Both Republicans and Democrats agreed Washington was worse than inflation and immigration issues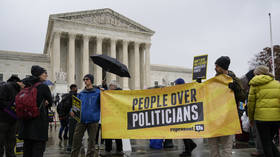 Americans believe the top problem facing the US is its government, a Gallup poll published on Monday revealed. Over a fifth (21%) of poll respondents named poor leadership as the most serious issue, outstripping even inflation, which fell to second place with just 15% of votes.
In a rare show of bipartisan unity, 24% of Republicans and Republican-leaning independents, along with 18% of Democrats and Democrat-leaning independents agreed that government incompetence topped the list.
Inflation was number two on the mind of both parties — 18% of Republicans listed it as the top issue, compared to 11% of Democrats. Another 18% of Republicans were more focused on immigration, an issue which fell to a distant 6th place among Democrats.
Economic confidence remains at rock bottom, with just 2% of respondents describing conditions as "excellent" and 15% believing they are "good." Nearly half (45%) think conditions are "poor," while 38% rate them "fair." The vast majority — 72% — see things getting even worse, though an optimistic 22% see the US' economic fortunes improving.
Despite their generally dismal economic outlook, 64% of poll respondents said it was "a good time to find a quality job in the US." The pollster's Economic Confidence Index, computed based on respondents' view of the economy now and predicted trends, remains underwater at -39, though it has improved slightly since peak inflation last summer.
Approval ratings for President Joe Biden and Congress remained constant at 41% and 21%, respectively. Polling was conducted during the first three weeks of this month, during which Americans witnessed House Republicans' repeated failure to elect a Speaker and watched Biden's spokespeople struggle to explain the growing pile of classified documents discovered in his various properties.
In a Gallup poll conducted earlier this month, nearly four out of five respondents predicted "economic difficulty," while nine in ten said they expected more "political conflict." Other popular predictions included price increases, a decline in American power, and a jump in crime rates.
You can share this story on social media: