Memphis police chief covered up child sex crime – report
CJ Davis allegedly told detectives not to investigate the husband of a colleague after images of him with underage girls were found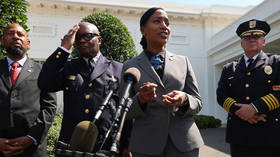 Memphis Police Chief Cerelyn 'CJ' Davis, whose officers brutally beat Tyre Davis to death, had been previously fired by the Atlanta Police Department for deliberately botching a sex crimes probe, according to local news outlet the Atlanta Journal-Constitution.
Davis was demoted from major to lieutenant and then fired in 2008 after a city investigation found her at fault for taking "no action" on the case of a police sergeant's husband who ultimately pleaded guilty to a federal charge of producing child pornography.
Two detectives claimed Davis had ordered them not to investigate Terrill Marion Crane after police found sexually explicit images of him with underage girls. His wife, Sgt. Tonya Crane, resigned before the department could discipline her.
Davis challenged her firing with Atlanta's Civil Service Board and was eventually reinstated. She spent seven more years with the department, later taking a post as police chief in Durham, North Carolina, before she was appointed Memphis' first female police chief in 2021.
Davis' department is in the national spotlight after the fatal beating of unarmed black motorist Tyre Nichols during a traffic stop led to the firing of the five officers involved. It recently emerged that two of those officers were hired after the department dramatically lowered its hiring standards by loosening education and experience requirements as it faced a critical manpower shortage.
Tadarrius Bean and Demetrius Haley joined the Memphis PD in August 2020, by which time the force was no longer requiring even an associate's degree, with five years' work experience considered an acceptable substitute. The two men were fired and charged with second-degree murder on Thursday, along with three colleagues, after body camera footage of the brutal beating was released to the public.
The police department has since reduced its requirements even further, dropping a physical fitness test, mandating just 24 college credit hours, and even offering waivers to applicants with felony convictions — generally considered a disqualifier for any government employment, let alone law enforcement.
Despite further sweetening the deal in 2021 with $15,000 signing and $10,000 relocation bonuses, the force was short 500 officers as of last year, local NBC affiliate WMC-TV reported.
You can share this story on social media: