NYC migrants refuse to move from hotel
Illegal aliens are protesting the decision to relocate them from their current accommodation to a shelter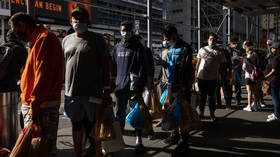 New York City's efforts to cope with an influx of illegal aliens bussed to the Big Apple from border states have hit a snag. Some of the migrants are refusing to be moved to a newly prepared shelter in Brooklyn after apparently preferring their free stay at a Manhattan hotel.
Dozens of migrants who had been relocated to a converted cruise boat terminal protested the decision by returning to Manhattan's Watson Hotel and camping outside their original lodgings on Sunday night. Office workers passing by the scene on Monday morning found the sidewalk partially blocked by tents and protesters sleeping in the open. A sign was hung on the scaffolding, saying "permanent homes" in Spanish and "cancel rent" in English.
The 1,000-person shelter at the Brooklyn Cruise Terminal was set up to accommodate single adult men, making room for migrant families at hotels and other temporary housing. Protesters complained that living conditions at the barracks-style shelter were unacceptable, including inadequate heating and a lack of privacy.
More than 42,000 migrants have arrived in New York since Texas and other southern states began sending them to the largest US city last year, according to a spokesman for Mayor Eric Adams. The converted cruise terminal is the fifth emergency relief center set up by the city to deal with the influx.
The new Brooklyn facility provides "the same services as every other humanitarian relief center in the city, and the scheduled relocations to Brooklyn Cruise Terminal this weekend took place as planned," mayoral spokesman Fabien Levy told the New York Post. "We remain in serious need of support from both our state and federal governments."
The flow of illegal aliens into the US has surged to an all-time high in the past year. Since President Joe Biden took office in January 2021, there have been more than 4.5 million migrant encounters by Border Patrol officers. The governors of Texas, Florida and Arizona, seeking to score political points on the border crisis, have bussed migrants to so-called "sanctuary cities" – such as New York, Washington and Chicago – that ban the deportation of illegal immigrants.
Adams has pushed back by demanding more funding help and announcing that New York has no more room to shelter migrants. "This is just unfair for cities to carry the weight of a national problem," the mayor told MSNBC last week.
You can share this story on social media: