NATO hopeful says it can wait
Finland wants to join the bloc along with Sweden, its foreign minister said after Türkiye proposed a separate accession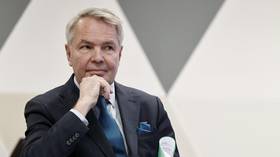 Finland is comfortable without NATO's mutual defense protection and can wait until fellow applicant Sweden resolves its differences with Türkiye, Finnish Foreign Minister Pekka Haavisto has declared.
"We do not see it as an option, if only one country would be accepted as a NATO member," the minister said during a press-conference on Monday, as quoted by the state broadcaster Yle. He explained that the lack of urgency was due to the fact that Finland had received security guarantees from many individual states and considered them sufficient.
Haavisto expressed hope that both Nordic nations would join NATO in July, when the leaders of member states are scheduled to hold a summit in Vilnius.
On Sunday, Turkish President Recep Tayyip Erdogan indicated that Ankara may ratify Finland's bid to join NATO while rejecting Sweden. Stockholm would be "shocked" to receive a message different from that of Helsinki, he mused.
Haavisto contacted his Turkish counterpart, Mevlut Cavusoglu, in the wake of Erdogan's remarks. He received confirmation that the Turkish parliament could approve Finland's bid as soon as March, before it goes into a recess ahead of general elections, the minister told journalists.
Finland and Sweden, two nations with a long history of neutrality, both applied to join the US-led military bloc last year, citing a threat supposedly posed to them by Russia. While Ankara initially opposed their candidacies, it later agreed to consider the bids in exchange for some policy changes by the candidates.
Turkish relations with Sweden took a plunge this month, after right-wing activist Rasmus Paludan staged a protest in front of the Turkish embassy, which involved burning the Koran. Erdogan said Sweden should not hope for his nation's consent after allowing the stunt. Last week, the three nations suspended trilateral talks on the ascension issue.
Paludan, who is a Danish-Swedish lawyer, staged new protests last week, one of which was in front of the Russian Consulate in Copenhagen. Some Swedish media outlets previously claimed that the activist was doing Russia's bidding. Haavisto too alleged that such a link could exist in Saturday's interview with Yle.
The Russian Foreign Ministry, however, has condemned Paludan's actions. Spokeswoman Maria Zakharova described Haavisto's attempt to pin them on Moscow as "disgusting to watch."
You can share this story on social media: