NATO hopeful could be 'shocked' by Türkiye – Erdogan
Ankara may give 'different responses' to Stockholm and Helsinki on their membership bids, the president has said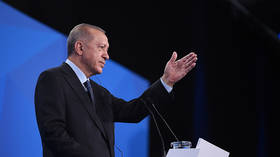 Türkiye may rule differently on the NATO applications of Finland and Sweden, President Recep Tayyip Erdogan told an audience of youth in the Bilecik province on Sunday, hinting that "Sweden would be shocked when we respond differently to Finland."
"But Finland should not make the same mistake," the Turkish leader warned.
The two Nordic nations had both reached an agreement with Türkiye in June on joining the US-led military bloc, pledging not to provide support to groups Ankara has designated as terrorists, to extradite terrorism suspects, and to swear off arms embargoes involving any of the trio. In return, Ankara has been expected to support their NATO membership.
However, that pact fractured earlier this month, when Swedish-Danish far-right politician Rasmus Paludan burned a Koran in front of the Turkish embassy in Sweden and vowed to destroy the holy book of Islam every Friday until Stockholm is allowed into NATO.
Erdogan addressed the provocative act in his remarks on Sunday, asking "Did [Sweden] wipe out Islam by burning our Koran?…They just showed how ignoble they are. Denmark did the same."
Paludan burned additional copies of the Koran on Friday, this time in front of a mosque, the Turkish Embassy, and the Russian Consulate in Copenhagen.
While Swedish Prime Minister Ulf Kristersson condemned the Stram Kurs (Hard Line) party leader's actions as "deeply disrespectful," he stopped short of calling for any official punishment for Paludan, who had police permission for the stunt under Stockholm's protections for freedom of expression. Türkiye condemned the country's leniency, arguing the act "clearly constitutes a hate crime."
While Turkish Foreign Minister Mevlut Cavusoglu revealed last week that a planned meeting to discuss NATO membership with both Finland and Sweden had been postponed indefinitely, Erdogan told his audience on Sunday that Sweden nonetheless had been given a list of 120 people to extradite as "terrorists" in order to "enter NATO."
Last week, Finnish Foreign Minister Pekka Haavisto suggested Helsinki might join the military bloc alone if its neighbor were to be blocked – a comment he quickly walked back. Both nations' foreign ministers confirmed on Saturday that their accession was still underway.
Addressing the two countries' NATO bids, Russia has said the expansion of the bloc would not make the European continent more stable or secure, and while Moscow noted it "does not have problems" with Stockholm or Helsinki, it has nonetheless pledged to adjust its military posture in its northern region if the organization adds two new members.
You can share this story on social media: