Türkiye puts NATO expansion on hold – media
Ankara has indefinitely postponed a trilateral mechanism meeting with aspiring members Sweden and Finland, TRT reports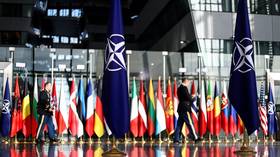 Türkiye has called off a three-way meeting with Sweden and Finland, leaving the two Nordic nations' plans to join NATO in limbo, Turkish state broadcaster TRT reported on Tuesday. Relations between Ankara and Stockholm took a nosedive over the weekend, following a sanctioned Koran-burning protest outside the Turkish embassy in the Swedish capital.
TRT's report, citing anonymous Turkish diplomatic sources, claimed that the meeting, scheduled for next month in Brussels, has been postponed at Ankara's request.
A source in the Turkish presidency stressed that the decision was not a cancellation, but rather a deferment, with no specified time frame. President Recep Tayyip Erdogan's office declined to comment offically, when approached by the media.
On Monday, the Turkish head of state made it clear that Sweden "will not receive any support from us with regard to NATO" due to Stockholm's failure to show respect to the "faith of the Republic of Türkiye or the Muslims."
His remarks came after Swedish authorities allowed an anti-Islam stunt to go ahead in front of the Turkish diplomatic mission in Stockholm on Saturday. Far-right Danish-Swedish politician Rasmus Paludan burned a copy of the Muslim holy book during the event.
The stunt came days after Kurdish activists hung an effigy of President Erdogan from a lamp post in Stockholm.
While the Swedish authorities condemned Paludan's controversial performance, they insisted that they had to authorize the protest in keeping with the country's "far-reaching freedom of expression."
The Turkish president dismissed that argument, suggesting that Stockholm should "leave the defense of their country to the very same members of terrorist organizations and Islamophobics."
Both Sweden and Finland applied to join NATO in May 2022 in the wake of Russia's military offensive against Ukraine.
The two countries need the unanimous support of all of the bloc's current member states. While most have backed the bids, Türkiye and Hungary have yet to do so.
Ankara made its consent contingent on Stockholm and Helsinki lifting the arms embargoes they had previously imposed on Türkiye. On top of that, President Erdogan has demanded that they stop harboring members of groups considered terrorists by Ankara.
Despite Sweden and Finland pledging to address these concerns, Türkiye has said it is not fully satisfied with the progress.
You can share this story on social media: