Tehran summons Ukrainian diplomat – media
Iran has officially decried comments by a Zelensky aide approving a drone attack inside the country, ILNA news agency has said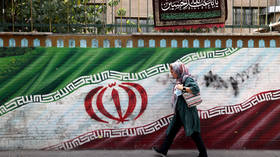 Tehran has protested to Ukraine's charge d'affaires over a statement by a senior Kiev adviser about a recent drone strike at an Iranian military facility. The official suggested the raid was connected to the ongoing conflict between Russia and Ukraine, local media said on Monday.
On Sunday, Mikhail Podoliak, a top aide to Ukrainian President Vladimir Zelensky, commented on the Saturday attack on an Iranian defense ministry complex in the central city of Isfahan by tweeting: "War logic is inexorable and murderous. It bills the authors and accomplices strictly…Explosive night in Iran – drone and missile production, oil refineries. Ukraine did warn you."
Kiev and its Western allies have repeatedly accused Iran of supplying Russia with drones to be used in the Ukraine conflict. Both Russia and Iran deny the allegations. At the same time, Tehran has admitted that it sent some drones to Moscow, but stressed that the delivery took place before the current hostilities dating from February 2022.
According to Iran's ILNA news agency, following Podoliak's tweet, said to demonstrate "the tacit acceptance of [Kiev's] participation in the attack…the Ukrainian charge d'affaires was summoned to the Ministry of Foreign Affairs," where he was asked to explain, the report said.
The Iranian Defense Ministry described Saturday's raid as "unsuccessful," and said there were no casualties. The drones managed to cause only "minor damage to the workshop's roof," the ministry said.
While Tehran stopped short of assigning blame, the Wall Street Journal reported, citing sources, that the strike was orchestrated by Israel. Meanwhile, an Al-Arabiya report suggested that the US Air Force and "one more country" took part in the attack. While the Pentagon has denied any involvement, Israel has refrained from any comment on the matter.
You can share this story on social media: