Explosions reported in Iran
The Defense Ministry says a drone attack was thwarted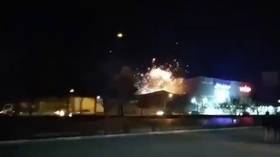 Iran was attacked with drones, the Defense Ministry claimed on Sunday. One device was shot down by an air defense system, while the other two "fell into defensive traps and exploded."
"This unsuccessful attack did not cause any loss of life and caused minor damage to the workshop's roof," the ministry said in a statement, as cited by state media outlet IRNA.
"[The attack] has not affected our installations and mission... and such blind measures will not have an impact on the continuation of the country's progress," it added, without providing details on who Tehran considers responsible for the attack.
The deputy governor of Isfahan province reported, prior to the military's statement, that the explosion occurred "in one of the centers" of the Defense Ministry. The local authorities said that no one was hurt.
Earlier, Iranian social media reported loud blasts across the country.
The news comes amid heightened tensions with Israel over Tehran's nuclear program. Iran denies Israeli allegations that it is planning to develop nuclear weapons. While multiple Middle Eastern media outlets have reported that Israel launched a military operation against Iran, the Israeli government and military have yet to make an official statement.
On January 28, there was also an explosion in northwestern Iran at an oil production plant in the city of Azarshahr in the province of East Azerbaijan.
You can share this story on social media: