Drone attack will not affect Iran's nuclear program – FM
A military facility was targeted in a strike resulting in only minor damage, Tehran has said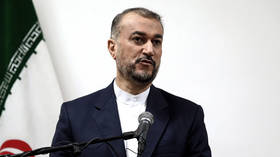 Iran has condemned an overnight drone attack that targeted a Defense Ministry facility in the city of Isfahan. Foreign Minister Hossein Amirabdollahian insisted on Sunday that the strike will not affect the progress the country is making in developing peaceful nuclear energy.
Speaking at a joint press conference with his Qatari counterpart in Tehran, Amirabdollahian insisted that acts such as this will not have any impact on Iranian specialists' "will and intentions" or obstruct their advances in peaceful nuclear energy.
Earlier, the Iranian Defense Ministry said that a military 'workshop' in Isfahan was targeted in an attack that resulted in no casualties and caused only minor damage. It is unclear if the facility has anything to do with Tehran's nuclear program.
Officials will now launch an investigation into the incident. Parliament's Security and Foreign Policy Committee will discuss the issue with Defense Ministry officials, the committee's spokesman, Mahmoud Abbaszadeh Meshkini, told Mehr News Agency.

The authorities in the province of Isfahan also launched an investigation, according to Fars News Agency, citing a local official.
The attack, which involved at least three 'micro drones', took place late Saturday, according to military officials. One unmanned aerial vehicle was shot down and two others "fell into defensive traps and exploded," the Iranian Defense Ministry said in a statement, adding that the assault resulted in no casualties and only minor damage.
Iranian social media also reported blasts in various parts of the country at that time, including a major blaze at an oil refinery in the northwestern city of Azarshahr. On Sunday, the nation's IRNA news agency called the reports about the explosions false.
A senior official in Iran's East Azerbaijan province, where Azarshahr is located, also told the news agency that a fire was caused by a leak in an oil pipe and had nothing to do with any other incidents. He also said the blaze was extinguished within hours and led to no casualties.
Al Arabiya reported, citing unnamed American sources, that the US Air Force and another nation were involved in the attack. The media outlet also claimed that the drone strike targeted a ballistic missile depot.
The Jerusalem Post cited Western intelligence sources as saying that the attack was "a tremendous success," contrary to what the Iranian authorities claimed.
Officials in Tehran have yet to name any suspects.
You can share this story on social media: