Russia may be linked to Stockholm Koran burning – Finnish FM
Moscow has slammed the suggestion as "disgusting"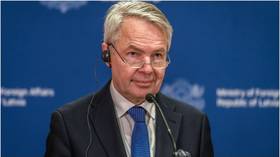 Finnish Foreign Minister Pekka Haavisto has claimed that Russia may have been behind the public burning of Korans in Stockholm, Sweden last week. He added that the stunt could have been orchestrated to derail the country's bid to join NATO.
On January 21, Rasmus Paludan, an anti-Islam activist and leader of a minor Danish far-right party, Stram Kurs (Hard Line), set the Muslim holy book on fire outside the Turkish Embassy in Stockholm. Ankara strongly protested the action, with President Recep Tayyip Erdogan saying on Monday that Sweden could no longer rely on Türkiye's support for its accession to the US-led military bloc.
On Friday, Paludan burned copies of the Koran in front of a mosque, the Turkish Embassy, and the Russian Consulate in Copenhagen, Denmark.
Speaking to Finnish TV channel Yle on Saturday, Haavisto floated the idea that Russia could be linked to the book burning. "This matter is under investigation. Various ties in the activist's circle have been uncovered," Haavisto said. "I cannot say with certainty … But we have been shown a concept of how to act in order to inflict maximum damage [to the NATO membership bid]."
The Russian Foreign Ministry harshly condemned the Koran burning. Spokeswoman Maria Zakharova said on Sunday that Haavisto's suggestion that Moscow may have been responsible for the incident was "disgusting to watch."
Finland and Sweden ditched their longstanding policies of non-alignment and jointly applied to join NATO last year, citing Russia's military operation in Ukraine.
You can share this story on social media: