AP apologizes for 'inappropriate reference to French people'
Calling them 'the French' is "dehumanizing", the news agency suggested, and the internet reacted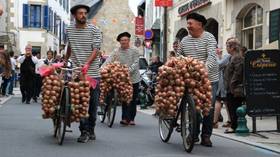 The Associated Press has apologized and deleted a tweet advising journalists that 'the French' is a term to be avoided along with 'the mentally ill' and 'the disabled'. The agency's advice was ridiculed online, including by France's Embassy in Washington.
The Associated Press' stylebook is considered one of the most authoritative guides on the use of the English language for journalists, and its 2022 edition comes in at a whopping 640 pages of rules on capitalization, punctuation, spelling, and jargon.
The stylebook is constantly updated, with AP regularly issuing new advice via Twitter. In a now-deleted tweet posted on Thursday, the agency stated "We recommend avoiding general and often dehumanizing 'the' labels such as the poor, the mentally ill, the French, the disabled, the college-educated. Instead, use wording such as people with mental illnesses. And use these descriptions only when clearly relevant."
The inclusion of 'the French' on the list caused a stir. Writer Sarah Haider joked that there is "nothing as dehumanizing as being considered one of the French. Rather, such individuals should be thought of as 'suffering from Frenchness' and deserve our compassion and prayers."
The French Embassy in the US suggested that it would change its name to the "Embassy of Frenchness in the US."
AP announced on Friday that it had deleted its tweet "because of an inappropriate reference to French people." However, the agency reiterated its earlier advice on "avoiding general 'the' labels such as the poor, the mentally ill, the wealthy, the disabled, the college-educated."
The AP's aversion to the word 'the' is not the only piece of language advice to make the news in recent weeks. The University of Southern California's School of Social Work announced earlier this month that it would remove the word 'field' (in the context of 'conducting field work') from its curriculum due to the fact that slaves and low-paid immigrants mainly worked in fields.
You can share this story on social media: