US university department bans word 'field'
The University of Southern California's School of Social Work explained the move by the need to reflect "anti-racist" values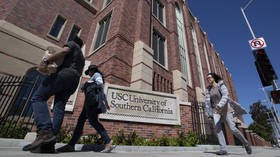 The University of Southern California School of Social Work announced on Monday that it is removing the word 'field' (as in 'conducting field work') from its curriculum and practice, and replacing it with the world 'practicum' out of concerns that it may have racist connotations.
"This change supports anti-racist social work practice by replacing language that could be considered anti-Black or anti-immigrant in favor of inclusive language," the department explained in a letter shared by Dr. Houman David Hemmati on Twitter.
"Language can be powerful, and phrases such as 'going into the field' or 'field work' may have connotations for descendants of slavery and immigrant workers that are not benign," it added.
In its letter, the department stated that its goal is to "honor and acknowledge inclusion and reject white supremacy, anti-immigrant and anti-blackness ideologies."
The School of Social Work's interim dean, Vassilios Papadopoulos, however, told Fox News Digital that the decision was not representative of the university's general policy and explained that the decision was specifically made by the Office of Practicum Education out of a desire to "more accurately describe its work."
"Because the Office is not an academic department, its name change was not subject to a formal review process," Papadopoulos said, adding that the university does not maintain a list of banned or discouraged words and continues to use words such as 'field'.
You can share this story on social media: