South Korea unveils path to 'normalize' ties with Pyongyang
Seoul will seek "direct and indirect" contact with North Korea, the government said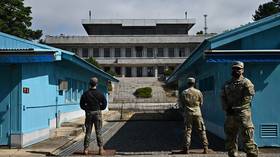 South Korea will use NGOs and international bodies to tilt Pyongyang towards restarting dialogue, the country's Unification Ministry said on Friday. It added that the ban on North Korean media may be eased as a goodwill gesture.
The South Korean Unification Ministry, responsible for engaging with Pyongyang, said the government would "seek direct and indirect contact with North Korea through civic groups and international organizations in a bid to open up chances to improve strained inter-Korean ties."
According to the Yonhap news agency, the Unification Ministry now plans to devise a more detailed strategy provisionally named the New Future Initiative on Unification. As one of the measures, the ministry said it was considering allowing people to read the Rodong Sinmun, North Korea's leading newspaper, at designated locations, but online access would not be allowed. North Korean media is currently banned in South Korea.
North Korea suspended nearly all cooperation with South Korea in 2019 after its negotiations with the US had broken down.
"It is important for North Korea to come back to dialogue with sincerity," Unification Minister Kwon Young-se said. He added that, although Seoul has remained open to restarting negotiations with Pyongyang, his government was not considering a concrete offer to North Korea at the moment.
At the same time, the Kyunghyang Shinmun newspaper quoted the Unification Ministry as saying that Seoul was hoping to push its neighbor towards negotiations by strengthening diplomatic and economic pressure on North Korea and by maintaining the alliance with the US. "We will create conditions, in which North Korea… will have no choice but to come to dialogue," Kwon said, as quoted by the newspaper.
Last year, North Korean leader Kim Jong-un's sister, Kim Yo-jong, rejected Seoul's offer of economic benefits in exchange for denuclearization as "foolish."
South Korea's outreach plan comes after months of heightened tensions across the Korean Peninsula. Pyongyang stepped up missile tests last year and has enshrined the use of nuclear weapons into national law. Kim Jong-un, meanwhile, demanded that Seoul and the US cease joint military drills, which Pyongyang considers a threat to its security.
Last month, South Korea accused its neighbor of flying several drones across the border, one of which had reached the outskirts of Seoul. "The North Korean authorities must immediately halt provocations that threaten the survival of our people and respond to our government's offers for talks," Unification Vice Minister Kim Ki-woong said on Sunday.
You can share this story on social media: