NATO member secretly provided Ukraine with fighter jets – media
Poland allegedly gave Ukraine several MiG-29 planes under the guise of spare parts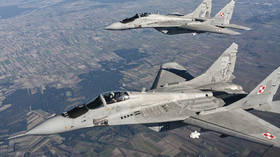 In spring 2022, Warsaw secretly delivered several of its MiG-29 fighter jets to Ukraine, despite the Polish government officially denying any such deals, a local paper has claimed, citing sources.
According to Dziennik Gazeta Prawna (DGP), the planes were sent over using a "combined" method, apparently meaning that they were delivered in a disassembled state and declared as spare parts.
"The fuselage and the wings are also spare parts," DGP wrote Wednesday, citing sources within the Polish government.
Back in March, in the first months of Russia's military operation in Ukraine, Washington rejected a plan to transfer Polish MiG-29 jets to Ukraine, stating the move was "too escalatory" and risked directly involving the US or a NATO ally in the conflict, potentially triggering a direct confrontation with Russia.
In April, however, the Pentagon stated that unnamed US allies had helped bolster Ukraine's fleet of fighter jets by donating unspecified "spare parts" which were supposedly used to restore many of Kiev's damaged planes.
The latest article by DGP now seems to suggest that that ally could have been Poland, which in late April was also revealed to have provided Ukraine with $7 billion worth of military aid, including half of its tanks, dozens of howitzers, Grad MRLS, and missiles for MiG-29 and Su-27 fighter jets, among other munitions.
In recent weeks the US seems to have abandoned some of its prior concerns about supplying heavy weapons to Ukraine, and now plans to deliver a number of its M1 Abrams tanks to Kiev, while Germany, Poland and Finland intend to send dozens of their Leopard 2 tanks.
Kremlin spokesperson Dmitry Peskov has responded to these planned deliveries as evidence that the West is becoming more directly involved in the conflict, despite European and American politicians claiming otherwise. That's as Russia has repeatedly urged the West to stop "pumping" Ukraine with weaponry, arguing it would only prolong the conflict and lead to more bloodshed.
You can share this story on social media: