UN pushes for troop deployment in Haiti
Washington has shown little interest in a security mission to quell violent unrest in the Caribbean nation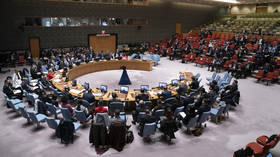 The United Nations has called for an international military deployment in Haiti, insisting a foreign troop presence is needed to maintain order and curb rampant gang violence. The country has seen significant unrest since the assassination of President Jovenel Moise in 2021, including a major spike in violent crime.
Addressing the UN Security Council on Tuesday, UN special envoy to Haiti Helen La Lime warned that gang-related violence has "reached levels not seen in decades," saying that while Haiti has made some positive steps in recent months, those gains "remain fragile and vulnerable to being reversed" without foreign intervention.
"Haitians overwhelmingly want this assistance so they can go about their daily lives in peace. The population is living in fear and are all too conscious of the limitations of the police force," she added.
Haitian Prime Minister Ariel Henry first proposed a security mission last October, calling for "the immediate deployment of a specialized armed force" to take on "armed gangs." At the time, criminal groups were helping to stage chaotic protests which effectively shut down some of Haiti's main ports, driving shortages in key goods such as water and fuel. UN Secretary General Antonio Guterres later echoed the government's appeal, though it appears to have fallen on deaf ears.
While Washington recently agreed to sell a number of armored vehicles to the Haitian National Police to "counter gang violence and re-establish stability," and has itself suggested a "limited" troop deployment, President Joe Biden has been reluctant to take that step.
During Tuesday's Security Council meeting, the US deputy envoy to the UN, Robert Wood, acknowledged that "Haiti must address its continued insecurity challenges," but stopped short of endorsing a security mission. Instead, he said Washington would recommend UN sanctions for "additional targets involved in the unrest in Haiti," which would build on an earlier round of penalties imposed last October.
In addition to a surge in gang activity, Haiti is also in the grip of a major political crisis in the wake of President Moise's assassination in July 2021. The terms of all elected representatives have expired as of January 9, and there is currently no confirmed date for the next elections.
Under a plan signed by a number of influential political and business leaders last December, the government will aim to organize the next election sometime before February 2024. However, Haiti's UN Ambassador Antonio Rodrigue warned the plan may be moot without help from outside powers, saying a foreign deployment is "an imperative right now."
"Without security, we cannot have fair, transparent and democratic elections nor can we restore the normal functioning of institutions in the country," he said. "If we overcome the gangs, we will restore order and peace… We cannot wait, and the security situation could worsen any day."
You can share this story on social media: