Maduro mulls creating new regional bloc allied to Russia and China
The framework would form "new poles of power," Venezuela's president has said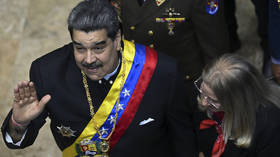 Venezuelan President Nicolas Maduro has proposed establishing a new international bloc involving Latin American and Caribbean countries that would have close ties to Russia and China.
During his annual speech at Venezuela's parliament on Friday, Maduro said that he had recently spoken with the presidents of Brazil, Colombia, and Argentina about forming a new regional organization. According to Maduro, the time has come "to unite efforts and paths in Latin America and the Caribbean to advance in the formation of a powerful bloc of political forces, of economic power that speaks to the world."
The Venezuelan president went on to say that the bloc would create "new poles of power," and would be allied to Russia and China, the leaders of which Maduro referred to as "elder brothers."
Such an alliance would comprise "that community of shared destiny that our elder brother President Xi Jinping talks about," or "that multipolar and multicentric world that our elder brother, President Vladimir Putin, talks about," Maduro added.
"For this world to arrive, a united and advanced Latin American and Caribbean bloc is needed," he stressed.
President Putin has repeatedly blasted the concept of a "unipolar world" dominated by the US. In September, he claimed that attempts to achieve such a configuration "have taken an absolutely ugly form." Meanwhile, Beijing has also said that China and Russia are "promoting together the multipolar world and do not recognize unipolar hegemony."

Under former President Donald Trump, the US denounced Venezuela's 2018 election, which Maduro won to secure a second term, as "illegitimate." Washington unleashed a "maximum pressure" campaign to oust him by imposing harsh sanctions on Caracas, which included an oil embargo.
The US also offered support to opposition leader Juan Guaido, recognizing him as Venezuela's "interim president" in 2019. In the aftermath of the move, Maduro's government broke off diplomatic relations with Washington.
Since then, however, attempts to remove Maduro from power, which included a series of street protests and an outright coup attempt, fizzled out. In late December, opposition lawmakers in Venezuela voted to dissolve the 'interim government' led by Guaido.
While the US still does not formally recognize Maduro, it has engaged in diplomatic contacts with Caracas in order to negotiate prisoner swaps and has lifted some sanctions.
You can share this story on social media: