FDA mulls yearly Covid jabs
Some US health officials have voiced skepticism in a new vaccine strategy calling for annual shots tailored to particular viral variants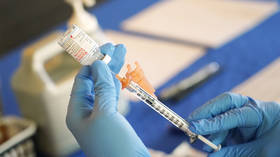 The US Food and Drug Administration is weighing whether to recommend annual Covid-19 vaccinations tailored to specific strains, proposing updated shots every year to keep up with newly emerging variants.
In a briefing document published on Monday, the FDA's Vaccines and Related Biological Products Advisory Committee outlined a new strategy for Covid immunizations, stressing the need to streamline its existing recommendations.
Set to discuss the plan during an agency meeting later this week, the FDA committee said it would consider "simplifying the composition and immunization schedules" for coronavirus vaccines, as well as updating all shots to target the same variants. It compared the plan to the strategy long used to combat the flu.
"Similar to the approach with influenza, the global nature of SARS-CoV-2 strain evolution warrants a global response when evaluating and recommending vaccine strain composition changes," the committee said, adding that an assessment of Covid-19 variants should be performed ahead of the fall season each year.
Transitioning to annual shots with uniform composition could help to boost vaccine coverage and compliance, as well as facilitate "clearer communication" with the public and reduce "vaccine administration errors," the documents continued. The advisors noted that higher-risk individuals, such as the elderly or those with compromised immune systems, may require two doses annually, but said "most individuals" will need only one.
However, some FDA advisors remain unconvinced about the agency's plans and say they are backed by "little research," with officials voicing doubts in comments to the New York Times.
"I'd like to see some data on the effect of dosing interval, at least observational data. And going forward, I'd like to see data collected to try to tell if we're doing the right thing," said Dr. Eric Rubin, an FDA advisor and the editor in chief of the New England Journal of Medicine.
Another advisor – Dr. Paul Offit, who heads up the Vaccine Education Center at the Children's Hospital of Philadelphia – questioned whether annual vaccinations are necessary in the first place, arguing that the decision should be driven by a variety of different factors.
"How old are they? What are their comorbidities? When was the last dose of vaccine they got? Did they take antiviral medicines?" Offit asked. He said the current national vaccination strategy appears to be "dose everybody all the time," but argued "that's just not a good reason."
"I'm choosing to believe that they are open to advice, and that they haven't already made up their minds as to exactly what they're going to do," he said of the FDA proposal.
You can share this story on social media: