CDC must investigate deadly vaccine side effects – lawmaker
The US health agency had earlier acknowledged that Pfizer's shots could adversely affect the elderly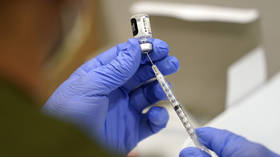 Cathy McMorris Rodgers, the House Commerce Committee chair, has called on the US Centers for Disease Control and Prevention (CDC) to "rapidly investigate" a potential link between Pfizer's Covid-19 vaccine and strokes among elderly people. The CDC acknowledged the risk, but continues to recommend that everyone over six months of age receive booster shots.
The CDC announced on Friday that reports suggested a link between Pfizer's bivalent booster shots and an uptick in strokes among adults over 65 who had received them. The agency said that it would investigate these reports, but claimed that it "is very unlikely" that there is a "true clinical risk," and that everyone over the age of six months should take the vaccine regardless.
The US Food and Drug Administration (FDA) this week authorized the use of these bivalent booster shots in infants over six months old, despite the fact that Pfizer never conducted human trials before bringing the shots to market.
"The lack of transparency over the past three years has broken Americans' trust in our public health agencies," McMorris Rodgers said in a statement on Friday. "CDC and FDA have systems in place to monitor vaccine safety that have identified this preliminary signal," she continued. "Now these agencies must rapidly investigate, in an open and transparent manner, whether or not the vaccine may have contributed to the reported strokes."
McMorris Rodgers, a Republican, added that both the CDC and FDA will be called to testify before her committee "so we can begin the long road of helping to restore Americans' trust in our public health agencies."
More than two years have passed since the FDA first issued an emergency use authorization for Pfizer's vaccine. Formal approval was granted in late 2021, but reports of adverse effects have since surfaced. The vaccine has been linked to an increased risk of cardiac arrest, particularly in young males, and a number of European countries have halted their booster programs in response to these concerns.
Furthermore, coronavirus vaccines have been found ineffective at stopping the transmission of Covid-19, despite Pfizer CEO Albert Bourla's insistence in 2021 that his product was "100% effective in preventing Covid-19 cases."
You can share this story on social media: