Moscow rubbishes 'fantasy' NYT parcel bomb claims
Russia has dismissed allegations that the country's intelligence was behind a string of attacks in Spain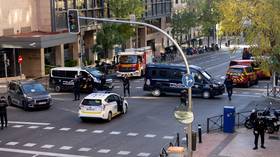 Russian diplomats have rubbished allegations that Moscow directed a "white supremacist militant group" to carry out a recent letter-bomb campaign in Spain. The claim, carried by The New York Times at the weekend, has been branded a "fantasy" consisting of zero evidence.
The newspaper cited unnamed US and European security officials who claimed that the incidents were actually a Moscow-orchestrated campaign "intent on keeping European governments off guard and may be testing out proxy groups in the event Moscow decides to escalate a conflict." At the same time, the unnamed officials admitted there have been "no signs that Moscow is ready to engage in widespread covert attacks or sabotage in Europe."
Responding to the report, the Russian embassy in Spain said the publication was a pure "fantasy." The article boiled down to a simple message that "American and European officials believe that Russian military intelligence is guilty" of the recent attacks, the embassy said.
"The zeal with which the Spanish press began to disseminate this brilliant investigation, despite it not containing a single piece of evidence, brings certain attention," the mission noted.
The string of attacks, involving parcel bombs and packages with hazardous materials, hit Spain late last year. Arguably the most prominent incident occurred in late November, when a parcel bomb exploded at the Ukrainian embassy in Madrid. An employee of the mission, who handled the parcel, received minor injuries in the blast.
Apart from that, explosive packages were found at the US embassy in the country, as well as at a major air base near Madrid.
Early investigation results, reported by local media at the time, indicated Spanish police believed the string of attacks was staged by a single person within the country, as opposed to an organized group. Reports also said that Spanish police had ruled out the involvement of Russian intelligence services.
You can share this story on social media: