Senior UK Conservative faces tax probe
Tory chairman Nadhim Zahawi allegedly dodged millions in taxes, but quietly settled the bill while serving as chancellor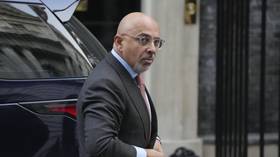 British Prime Minister Rishi Sunak has opened an investigation into former Chancellor Nadhim Zahawi's tax affairs. Accused of avoiding paying his share for years, Zahawi allegedly settled a multimillion-pound dispute with the authorities while he was responsible for taxing the British public.
Sunak said on Monday that he had asked ethics adviser Laurie Magnus "to investigate the matter fully and establish all the facts and provide advice to me on Nadhim Zahawi's compliance with the ministerial code."
Zahawi served as former Prime Minister Boris Johnson's chancellor of the Exchequer from July of last year until September, a position that saw him manage the country's taxation and public spending policies. However, the BBC reported last week that Zahawi settled roughly £5 million ($6.1 million) in unpaid taxes and penalties during this period, without informing the British public, while The Guardian said that he settled the bill in December.
Zahawi allegedly ran up the tax bill by failing to properly declare profits earned from the sale of his stake in YouGov, a polling firm co-founded by the former chancellor and current Conservative Party chair. Zahawi reportedly concealed his share of the profits in an offshore trust operated by his family.
The Tory chief insists he did no wrong, with a spokesperson telling British media outlets last week that "Mr Zahawi's taxes are properly declared and paid in the UK." While the statement did not explain the specifics of his dealings with the sale of the stake, Zahawi said on Monday that he looks forward to "explaining the facts of this issue" to Magnus and insisted the mistake was "careless and not deliberate."
However, the Labour Party has demanded that Zahawi lose his job over the affair. "The prime minister should sack him, and sack him today and show some leadership," party leader Keir Starmer declared on Monday.
Zahawi is not the only senior Tory in trouble over his finances. Labour has called for an investigation after the Sunday Times reported that Conservative donor Richard Sharp arranged a guarantee on a loan of £800,000 ($987,300) for Boris Johnson, before Johnson appointed him chairman of the BBC in an apparent quid-pro-quo deal.
You can share this story on social media: