British PM fined over seat belt violation
Rishi Sunak has been issued a "fixed penalty notice" for what he admitted was an "error of judgment"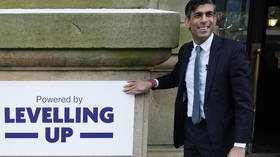 UK PM Rishi Sunak has been fined by Lancashire Police for riding in a car without a seatbelt. He previously admitted to removing the restraint to film a social media video which was posted to Instagram.
In a statement on Friday evening, Lancashire Police said: "You will be aware that a video has been circulating on social media showing an individual failing to wear a seatbelt while a passenger in a moving car in Lancashire."
"After looking into this matter, we have today issued a 42-year-old man from London with a conditional offer of fixed penalty," the statement went on.
Sunak's spokesman Jamie Davies told the BBC on Friday that "of course" the prime minister did not think himself above the law. Failure to wear a seatbelt is punishable with a £100 on-the-spot fine that can run as high as £500 if the courts get involved, according to the BBC.
Sunak was only "caught" skipping the belt because of a video his staff posted to his Instagram on Thursday, in which he gushes to the camera from the backseat of a moving car about his government's "leveling up" community targeted investing program. The promo clip appears to have been removed as of Friday.
Through his spokesman, Sunak insisted that the absence of a safety restraint was due to a momentary "error in judgment" and that he had merely removed it for a minute to film the video. Sunak "fully accepts this was a mistake and apologizes," Davies said. "The prime minister believes everyone should wear a seat belt."
The PM's rivals were not letting him off the hook that easily, however. A Labour spokeswoman suggested it was just more proof that Sunak could not connect with the common man, arguing the list of things the Conservative leader couldn't do – from wearing a seatbelt to using a debit card to managing the UK economy – made for "endless painful viewing." A senior Liberal Democrat agreed, quipping that he was so accustomed to flying in private jets he had forgotten how to ride in a car.
Sunak's own party was more understanding. Blackpool South MP Scott Benton told the BBC that police were wasting their time going after the PM on a clearly politically-motivated charge when there was real crime to fight.
The former chancellor has struggled to reassure the country he can "grow the economy" and get inflation under control after taking over from Liz Truss last year, even as numerous economic experts have predicted the global economy is headed for an unavoidable recession this year.
You can share this story on social media: