Kosovo police open fire on Serbs
Belgrade says ethnic Albanian officers shot up a car and seriously injured a passenger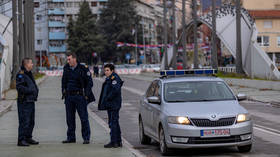 One ethnic Serb has been hospitalized with a chest wound after ethnic Albanian special police in northern Kosovo opened fire on a civilian vehicle on Monday morning, an official in Belgrade has said, protesting the latest attack in the Western-backed breakaway province.
The incident happened around 11:30 local time at a checkpoint between Kosovska Mitrovica and Leposavic, according to the Serbian government's commissioner for Kosovo, Petar Petkovic. He blamed the ethnic Albanian prime minister, Albin Kurti, for the shooting.
"Members of Kurti's ROSU special forces opened fire on Serbs in a vehicle simply because they refused to be harassed," Petkovic told reporters in Belgrade. "Kurti's ROSU has no business in the north of [Kosovo], and this checkpoint was set up illegally to harass the Serbs that use that road daily."
Miljan Delevic, 37, was transported to the hospital in Kraljevo with injuries. His life is not in danger at the moment, the hospital said. The other man in the car was "miraculously" not injured, according to Petkovic.
Kosovo police said the car had refused to stop at the checkpoint and "struck a police vehicle while moving, directly endangering the lives of police officers," who opened fire to protect themselves.
The Serb List political party denounced the "brutality of these criminals in uniform" and called it a "continuation of anti-Serb hysteria by the Pristina regime." Recalling the Christmas Eve attack on Serbs near Strpce, the party quoted the words attributed to US founding statesman Thomas Jefferson: "When injustice becomes law, resistance becomes duty."
NATO troops took control of Kosovo in 1999, after nearly three months of bombing Serbia on behalf of ethnic Albanian insurgents. The province's provisional government declared independence in 2008, but Belgrade has resisted US and EU pressure to recognize it, relying on support from Russia and China.
Kurti's government has repeatedly tried to assert authority over the remaining Serbs in Kosovo, starting at the end of July when he declared their license plates and documents invalid. The impasse was thought to be resolved in late November with an EU-mediated deal, but over the weekend local Serbs reported that Kosovo police were turning them back and refusing to recognize their plates once again.
Pristina's interior minister, Xhelal Svecla, claimed that Serbia had "entirely violated" the deal by illegally issuing new plates. EU spokesman Peter Stano disagreed, saying that Serbia was only renewing insurance and inspection stickers, which could not be considered a violation.
You can share this story on social media: